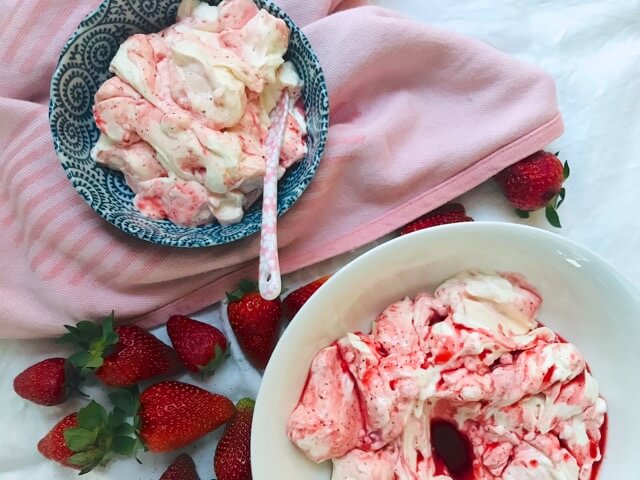 Yoghurt Cream – How To Get This In Your Life Right Now
If I had to nominate five foods that I could not live without, yoghurt would be close to the top. Lets be clear that cheese would be at the actual top because it is the yummiest food in the world. I wrote about this a few years back in case you want to check that conversation out.
I'm not a fan of sweet yoghurt but I do love a good plain Greek yoghurt. Are you with me?
I'm happy to eat it all by itself, topped with fruit or with one of my favourite granola's, Freedom Foods Barley + Barley Clusters.  Any which way suits me.
It's true that Greek yoghurt can be higher in fat that other yoghurts but I am a firm believer that you should enjoy what you eat. Let's remember that yoghurt is a wonderful source of calcium, protein and probiotics and that it all comes down to choosing foods that you enjoy.
Earlier this year, I won a copy of the the fabulous Ottolenghi's new cookbook, SIMPLE.  I've been perusing the pages ever since, trying to decide what I will start with. I often go straight to the back of cookbooks to look at the baking and desserts (oops), so this habit combined with a fridge full of fresh strawberries cemented my decision. 
Sumac-roasted strawberries with yoghurt cream looked and sounded absolutely divine.  The whole dish was lovely but what I really want to share is the yogurt cream part of the recipe. Such a fabulous idea for a dessert and super easy. I have reduced the sugar content a little and despite the addition of a little cream, this dessert still has the nutritional goodness of yoghurt with just a little extra bling.
Yoghurt Cream
Ingredients (Serves 6)
1 kg Greek Style plain yoghurt
1/4 teaspoon salt
Zest of one lemon
3 tablespoons of icing sugar
120ml thickened cream
Method
Put the yoghurt into a bowl with half the icing sugar and 1/4 teaspoon of salt.  Mix and then transfer to a sieve lined with a new, clean Chux cloth and set over a bowl. Pull the cloth together and twist or tie into a bundle.
Place another heavyish bowl on the top of this and place into the fridge for 45 minutes.
Once removed from the fridge, squeeze as much liquid out as possible and you will be left with thickened yoghurt.
Remove from the cloth, discard any liquid and transfer to a bowl. Stir in the cream and lemon zest and refrigerate until ready to use.
Once your yoghurt cream is all made and ready to go, you can fold in any type of fruit or you can enjoy it solo – the lemon zest gives this dish a lovely zing.
https://www.juliemeek.com.au/wp-content/uploads/2020/10/Yoghurt-Cream.jpg
480
640
Julie Meek
https://www.juliemeek.com.au/wp-content/uploads/2020/02/julie-meek-logo.png
Julie Meek
2020-10-27 20:01:12
2020-10-27 20:01:12
Yoghurt Cream – How To Get This In Your Life Right Now