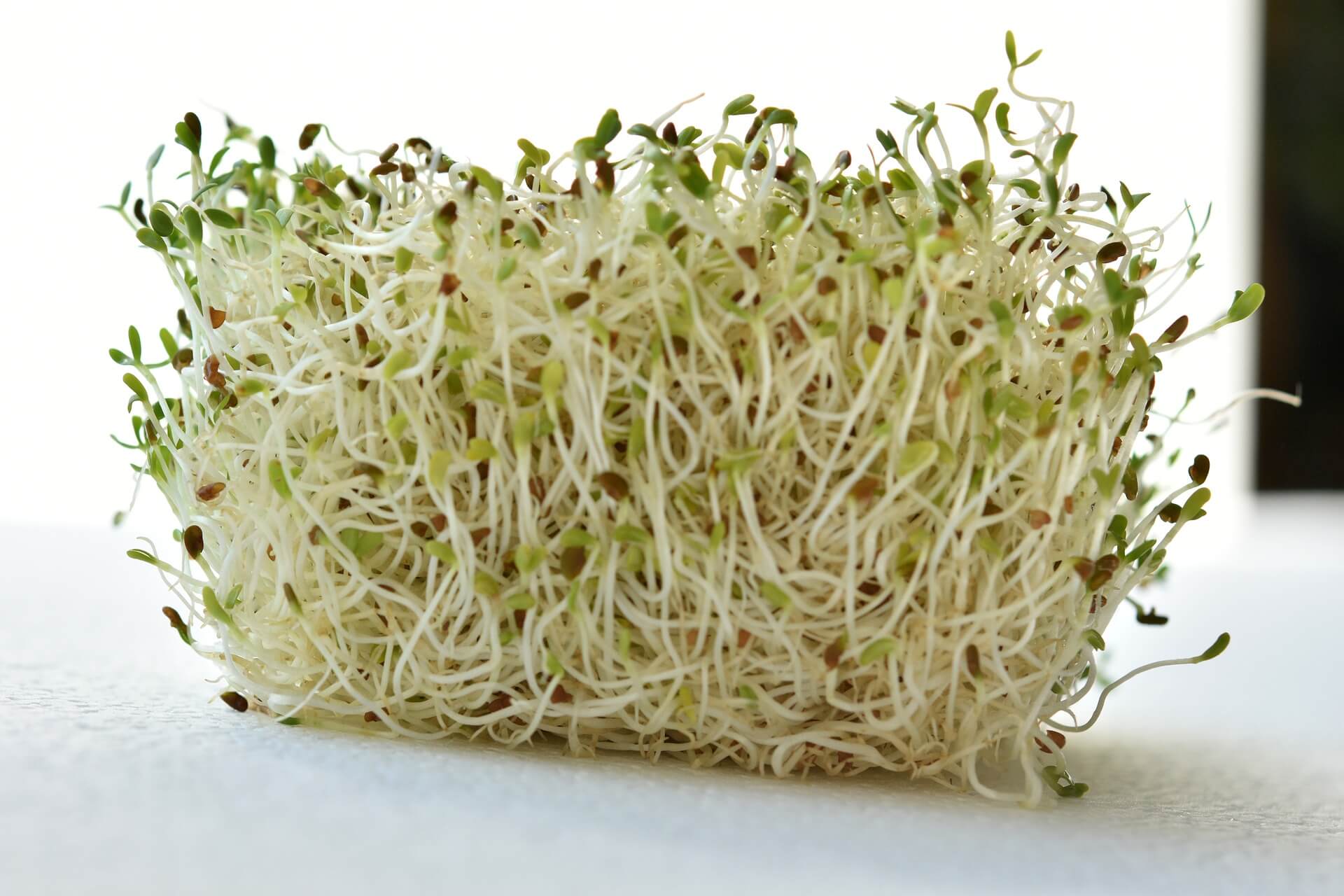 The Goodness Of Broccoli Sprouts – Why You Should Grow Them
One of the food related activities that I did over the quarantine break was grow broccoli sprouts.
I loved growing them as a kid and watching those little leaves come to life overnight. They are also rather wonderful for short attention spans as they take only a few days to grow. This makes them perfect for kids too.
We know that all vegetables are super healthy but there is one group that experts believe contribute significantly to overall health due to their unique nutrition content. This is the Brassica family aka cruciferous vegetables. The peeps in this vegetable family include broccoli, cabbage, cauliflower, kale, Brussels sprouts, radish, watercress and bok choy. 
The compound that makes these particular group of vegetables important is called Sulphoraphane. Try saying that quickly ten times.
What's So Good About Sulforaphane? 
For insects, it's not good – it can kill them. Sulforaphane acts like an insecticide and that's why the cruciferous vegetables produce it.  The sulforaphane is designed to make it less appealing to predators.
Clearly not less appealing to the white moths that love spending time on our broccoli plants.
Good news for us humans though – sulforaphane is the food equivalent of a black belt in martial arts and has been shown to help:
Reduce inflammation 
Protect against heart disease 
Lower blood pressure
Improve brain function 
Slow ageing and prevent against cancer
What About Broccoli Sprouts?
Boiling or microwaving broccoli and other cruciferous vegetables dramatically reduces the concentration of sulforaphane and therefore the health benefits. Just ensure that whatever your process of cooking broccoli is, make it snappy.
Broccoli sprouts have more than ten times the sulforaphane of broccoli. Based on this fact, it makes sense to mix up your usual intake of  Brassica vegetables with some raw sprouts that are full of the powerful sulphoraphane.
How Do We Grow these Sprouts?
You could try growing them as suggested like this or you could make it a bit easier like I did by using a sprouting container.
Either way, I find that my sprouts are all done and ready to eat within four days.  
When broccoli seeds start to do their thing and germinate, tiny plants called sprouts grow from the seeds.  You can buy these seeds from health food stores or you can harvest the seeds from broccoli plants that have gone to seed.  
These sprouts have a similar appearance to alfalfa sprouts and taste a lot like radish.  Broccoli sprouts are packed full of Vitamin C, antioxidants and of course, the mighty sulphoraphane. They are a delicious addition in a salad or scattered on top of a poached egg.
Would love to hear about your sprouting efforts!
https://www.juliemeek.com.au/wp-content/uploads/2020/06/Sprouts.jpg
1280
1920
Milan Lipowski
https://www.juliemeek.com.au/wp-content/uploads/2020/02/julie-meek-logo.png
Milan Lipowski
2020-06-19 03:46:41
2020-07-02 19:59:01
The Goodness Of Broccoli Sprouts – Why You Should Grow Them