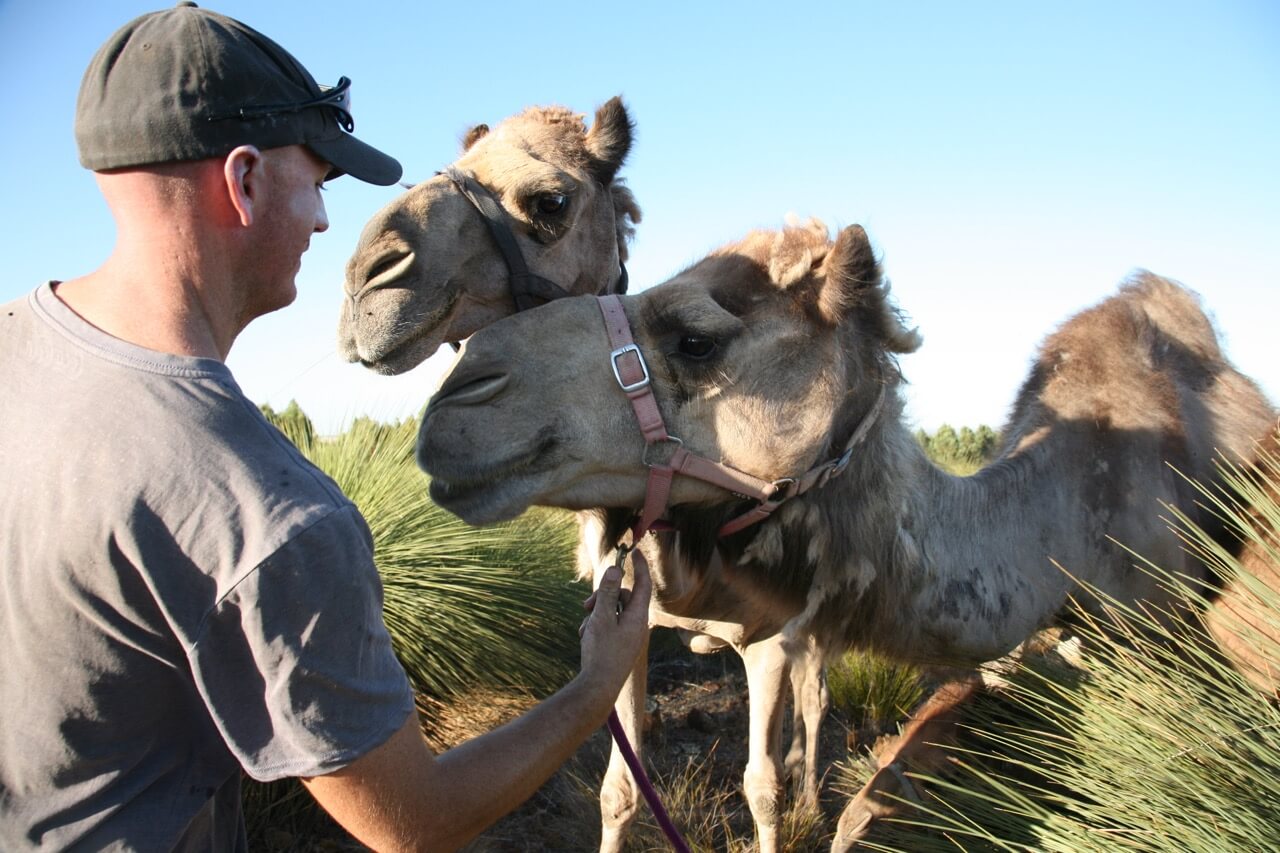 Camel milk and the health benefits – one hump or two?
It is fair to say that Australia has no shortage of camels. It is estimated that there are approximately 1 to 1.2 million camels roaming free (or feral depending on your outlook) in the land of Oz. These camels are spread far and wide across an area of around 3.3 million square kilometres of diverse terrain and their numbers are projected to double every 8-9 years.  The mind boggles does it not?
Enter the cameleer. A cameleer is someone who can ride, train and handle camels and that is exactly what a gentlemen by the name of Stephen Geppert is expert in. Whilst in the Australian desert, he noticed how many camels were running wild and aware of the governments culling program to control numbers, Stephen got to thinking about harnessing these mammals for their milk.
This idea was further developed by joining forces with others who had experience within government and the agricultural industries and the Good Earth Dairy in Dandaragan that produces camel milk was born.
I first tried camel milk at the Perth Royal Show a few months ago and I was surprised to discover that I liked it. I may have been persuaded by the cuteness overload of two baby camel's swaying on their gangly new legs and their l o n g eyelashes but nevertheless, it tasted good.
Camel milk has some impressive nutrition stats.  It contains half the saturated fat of cows milk and is a rich source of protein and calcium.  Good news for those intolerant to the A1 protein in cows milk too  – camel milk contains only the A2 protein. It contains 60% of the lactose in cows milk, making it a viable option for those who are lactose intolerant and the mineral content including zinc, magnesium, manganese and potassium is high too.
Then there is lactoferrin. Various strains of harmful bacteria need iron to reproduce and lactoferrin is an iron-binding protein that limits the availability of iron to bacteria in the gut – allowing the beneficial bacteria survive. Camel milk uniquely contains 10 times the amount of lactoferrin that is found in cows milk.  
There is no doubt that the camel milk industry is in its infancy and with that comes the substantial stresses of a start-up business, which of course includes consumers being aware that it exists.
Aside from the nutritional benefits, I do appreciate innovation and the use of an existing resource that can survive in very tough conditions, minimising the impact on our environment. 
If you would like to listen to my review on air and all the funny jokes that one would expect with a review of camel milk, check it out here. By the way, you can grab this milk at a number of specialty stores around Perth, listed on the Good Earth Dairy website.
What about you – have you tried camel milk yet?
https://www.juliemeek.com.au/wp-content/uploads/2017/10/Good-Earth-Diary-2-Reduced-Size.jpg
853
1280
Julie Meek
https://www.juliemeek.com.au/wp-content/uploads/2020/02/julie-meek-logo.png
Julie Meek
2017-10-31 14:37:32
2018-03-26 12:04:20
Camel milk and the health benefits – one hump or two?