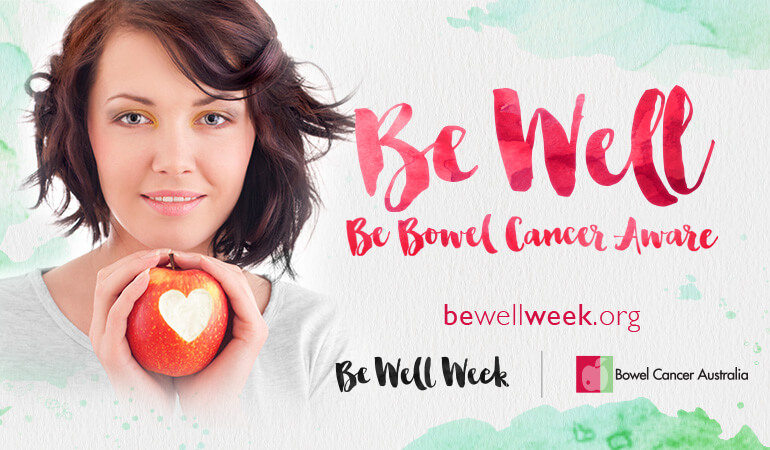 On April 17th 2007, the world as I knew it fell apart. My Dad was unexpectedly diagnosed with bowel cancer. Within one week he underwent surgery to remove 40cm of his bowel and was told that there were traces in his lymph nodes also. Within two weeks he had started a 6-month course of chemotherapy.
After the initial bouts of endless crying, I then became very angry. I was questioning why my Dad had bowel cancer when every time I looked at him he was eating fruit and vegetables, he ate whole grain bread, high fibre cereal and threw psyllium husk on anything that sat still long enough.
I then thought, what is the point of eating all this healthy food if we are going to end up with bowel cancer anyway? The thing is, although bowel cancer does have a strong genetic link, what you eat, how much you move and your general state of health affairs play a big role too.
Each year in Australia, 6,800 Australian women are diagnosed with bowel cancer and it's the third leading cause of cancer deaths in Australia. Many of us know that cancer does not discriminate and 530 of those women diagnosed with bowel cancer are under the age of 50 years old.
For me, having a direct genetic link means that I need to be vigilant with check-ups including a colonoscopy every five years, not exactly what I would call a fun day out but knowing that it can save my life gets me there every time. If you don't have that link though, a quicker and simpler way of checking is through a stool sample. Both women and men are advised to start screening for bowel cancer from 50 years of age but despite this, surveys in 2014 showed that only just over a third of women in this age bracket had been tested in the past couple of years. The perception that bowel cancer screening is messy and embarrassing, as well as a fear of receiving bad news are among the top reasons many women put off screening for the disease. It might sound icky but the ickiness factor is really non-existent compared to the reality of enduring cancer and all that it brings.
This week marks the inaugural Bowel Cancer Australia's Be Well Week, aimed at women.  Don't worry, men are not being brushed under the carpet, their turn will come later in the year. For this week and of course beyond, the message is simple.  Eat Well. Move Well, Be Well.  For great resources, information and delicious recipes, go here to check them all out.
Opera singer, Beverley Sills once suggested to "Be like a postage stamp, stick to one thing until you get there." I often remind myself of these words because at times I find myself making the simple things complicated.  Don't we all do just that with our health and well-being sometimes?
What is the one thing that you can do this week to eat well, move well or be well? Is it eating breakfast to start your day with energy, grabbing a piece of fruit instead of one of those fancy shmanzy doughnuts, taking a walk at lunchtime, being mindful about reducing stress in your life or getting an extra 30 minutes of sleep each night?
Don't worry about the long list you might have, just tackle one of them. Sometimes we just need to start something.
Bowel cancer kills around 80 Australians each week. Fortunately, my Dad was one of the lucky ones and survived his fight.
What are you going to do in Be Well Week to avoid getting into the fight?
https://www.juliemeek.com.au/wp-content/uploads/2015/09/Be-Well-Week.jpg
450
770
Julie Meek
https://www.juliemeek.com.au/wp-content/uploads/2020/02/julie-meek-logo.png
Julie Meek
2015-09-22 12:57:42
2018-03-26 12:04:27
Be Well Week