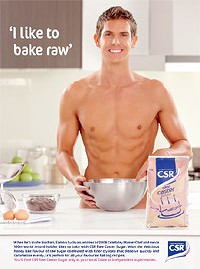 Who would have thought that little white grains could cause such a ruckus?  There has been a loud roar around Australia this week, with the new marketing campaign for CSR Sugar starring Olympic Medallist and world record holding swimmer, Eamon Sullivan. The advertisement showcases Eamon behind a kitchen bench in his birthday suit, with his private parts cleverly hidden by a mixing bowl.  
Mike Daube, Curtin University Professor of Public Health Policy has slammed the swimmer for his endorsement of sugar and called him 'crass and irresponsible.'  Based on that response (and others),  I thought he might be promoting illicit drugs and alcohol. But no.  Just big bad sugar.
The obesity crisis in Australia is a big issue, but we can't heap all the blame on sugar.  Lets not forget the glaringly obvious fact that we eat too much and don't exercise enough.  Its true that healthy eating should be promoted at every opportunity but as Sullivan has pointed out himself, he is not recommending that we buy a kilo of sugar, melt it down and drink it every day. There is quite a difference between awesome ab's promoting sugar and our cricketers spruiking KFC don't you think? Or what about the Ironmen endorsing Nutrigrain cereal, which is a sneaky little sugar mule.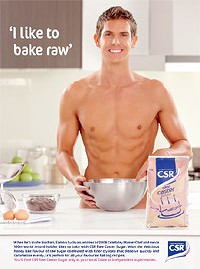 With all this free publicity CSR Sugar will be cheering with glee.  But really, whilst admiring the creativeness of the campaign some of us may forget what he actually advertising.
https://www.juliemeek.com.au/wp-content/uploads/2010/09/image-eamon-sullivan.jpg
269
200
Julie Meek
https://www.juliemeek.com.au/wp-content/uploads/2020/02/julie-meek-logo.png
Julie Meek
2010-09-05 16:35:55
2018-03-26 12:04:43
Operation Sugar Storm