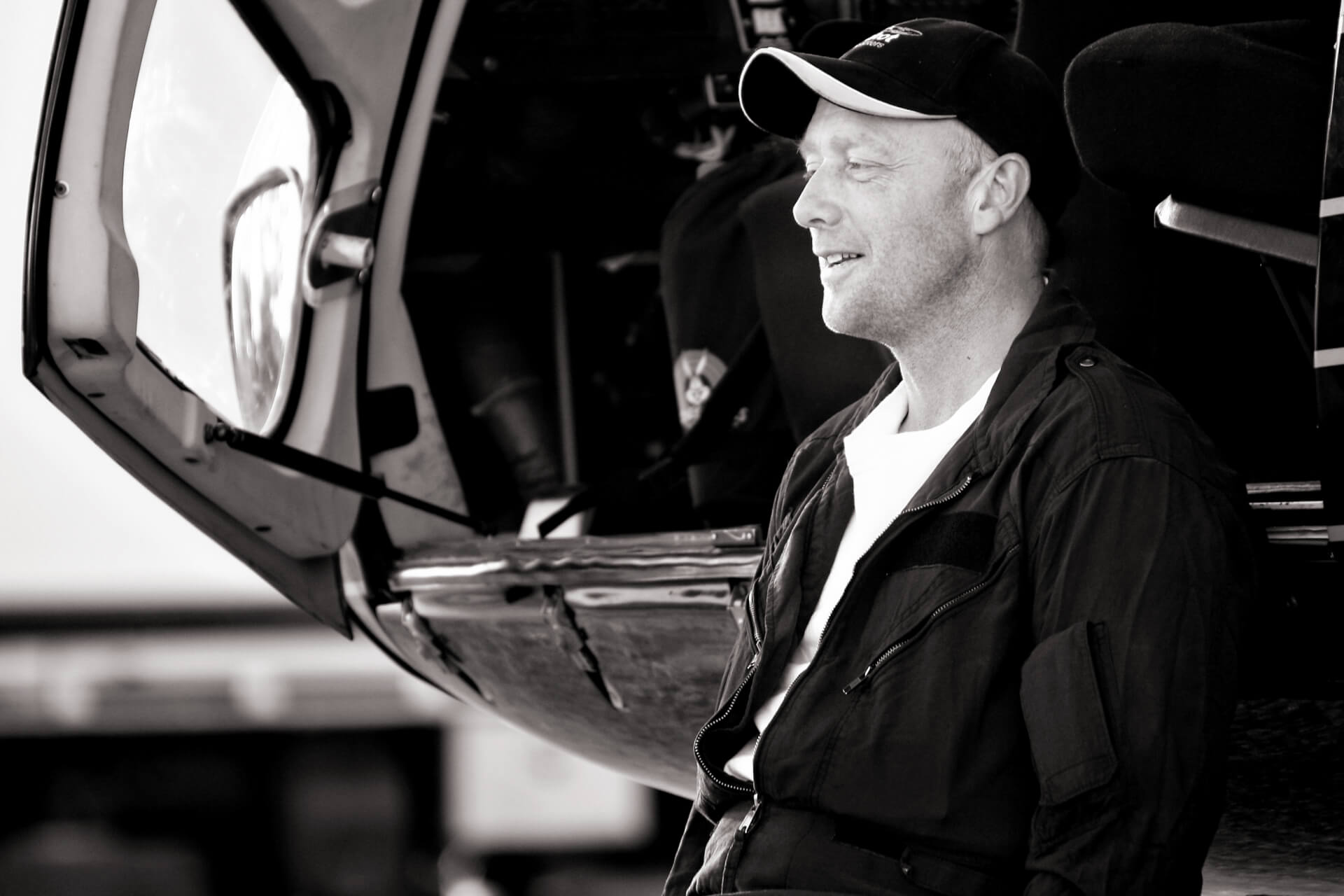 Make a Choice Not a Sacrifice
To make a choice not a sacrifice is an interesting decision.
Take extreme helicopter pilot, David Adamson as an example. David was born with an innate competitive streak and this streak was put to good use during his childhood in Dumfries, Scotland by kicking around a soccer ball. This Scottish pilot can also juggle 5 balls and ride a unicycle.
So how did that attract him to flying? David suggests he is no different to the majority of males who like loud, noisy machines, with helicopters fitting right into this category. Add a high degree of difficulty to fly properly, their capacity to do spectacular things in the air plus a hefty price tag and he was sold.
Up Close and Personal
David is not your average helicopter pilot. More of the extreme type, although by extreme I don't mean dangerous. He specialises in low level filming (up close and personal to the water, ground, car, athlete or any moving object) for television productions, documentaries, commercials and sporting events. This requires an exceptional level of skill, endurance, stamina and mental focus. David is engaged by production companies like Disney, BBC, CBS, Foxtel, Discovery Channel, Lonely Planet, National Geographic plus all of the Australian media channels and has worked on a number of films including 'Drift' starring Australian actor Sam Worthington.
David's skills are in demand internationally and it is not uncommon for him to get his passport stamped in a couple of different countries each week.
David's expertise is highly sought after in the sporting arena including motor sports, adventure races such as Anaconda, the Kellogg's Nutri-Grain Surf Ironman Series, Red Bull adventure events and Ironman Triathlon.  TV productions like internationally acclaimed Top Gear, Getaway, Postcards and Surfing the Menu love his work too. As a helicopter pilot, safety is the top priority and David is an Aviation Safety Consultant, Flight and Ground Instructor both in Australia and internationally for pilots, aircrew, general public and the film industry.
When I first saw a photo of David in his helicopter hovering a breath away from a surfer carving up a monster wave at the world-class surfing venue of Margaret River, I knew he would have some unique strategies for his own performance. 
The Committment
While training to be a pilot, David learnt a couple of lessons that he was able to apply to managing his own health when he needed them. Perseverance and commitment was key because the ballpark financial cost of training over a 6-month period was $70,000 AU and required a substantial loan. Getting his first job and runs on the board was very difficult and made all the more stressful with a weighty financial burden in the background. It was during this time that David had to frequently remind himself that although his desire to be a pilot often felt like sacrifice, it was in fact completely his choice.
Frequent and lengthy travel has directly impacted on David's weight and well being in the past. To rectify these problems, he now consciously makes choices that will benefit his health such as choosing hotels based on the availability of a gym or pool or proximity to healthy food to maintain his fitness and focus.
Mental focus is clearly essential for David's job as he has to integrate his expert flying skills, weather conditions, logistics of the event or 'target' and his own mental and physical well being. His calm persona is obvious in person and in the world of flying this is a highly desirable trait. To avoid stress, David plans ahead and ALWAYS has a contingency plan in place.  This has to be a bonus when in charge of a helicopter!
Which Road Will You Take?
Picture an Olympic year; everybody at home is on the edge of his or her seat glued to the big screen.  At the end of the race the athlete pants, "I've given everything to be here."   It's true; the overwhelming majority of Olympians have given everything to be one. For each of them, just qualifying for the Olympics has meant years of relentless training, often missing out on socialising with friends and family, continual juggling of work, school and other commitments and for many ongoing financial hardship. It's not just the athlete but usually their parents and siblings too who have been there all the way supporting them, ferrying them to training and providing the financial back-up to enable to them to pursue their dream.
The big question here is whether these athletes have made a choice or a sacrifice.  A choice is an action you prefer over another action. You get to control it and we all make a myriad of choices each and every day without giving any thought to them.  Will I have cereal or toast for breakfast, what will I wear, shall I get up early and exercise or will I sleep in, should I drive the car or catch the train to work? 
You get to control each and every one of these choices and make a decision. Most of our regular choices fall into patterns and become part of our daily routine. Some of them, however, are important enough to define the quality of our lives.
And What About Those Sacrifices?
A sacrifice is something you "give up" because you're forced to or because intellectually you know you should; but deep down, you still want it badly. You give it up because continuing would be worse…like smoking, spending time in the sun in the heat of the day without sunscreen or protective clothing, eating a family block of chocolate every day or drinking too much alcohol.
As an added bonus, sacrifices often come as a package deal with resentment and failure. Picture Australian Sally Pearson who won the gold medal in the 100m Hurdle event at the 2012 London Olympics by two-hundredths of a second. We know that there so many choices that this Olympic athlete made along the way to achieve her dream of being the best 100m hurdler in the world. This lightening fast athlete made a choice not a sacrifice to be the best in the world; nobody forced her to do it.
Elite athletes aside, for the everyday person, a health and well-being goal will be something you are contemplating or working toward, something you'd like to achieve that includes a degree of uncertainty and probably difficulty. It's something you're trying to accomplish…like losing those stubborn last five-kilo's, finding calm, balance and happiness in life or starting that exercise class you have been wanting to join for ages. Goals are not a snap and are meant to challenge us and give us direction. 
Imagine This 
Imagine really wanting to do a 12km run that is conducted annually in your state.  You have never run in your life, unless you count the playground way back when. You are willing to train but you can't fit it in because you are too busy. If you get up earlier, you don't get enough sleep.  

If you attempt to train after work, you're too tired. All of these things are choices and decisions that you have made, not sacrifices.  There are some things in your day that are non-negotiable like school and work but be honest with yourself, is there any fluff that you can clear out to make way for your running training?  Block that time out and then add in what you must do to achieve your dream of running 12 km.  If you are too tired to get up in the morning, stop watching TV and go to bed earlier.
Master Chef and MKR are not going to help you get up at 6am are they? If you know that distractions like kids, last minute deadlines, or just general fatigue often occur at the tail end of the day, don't set yourself up for failure by scheduling training sessions at this time. Aim for the morning sessions and find a buddy to join you. While rest and recovery is essential in any training regime, it can be tempting to hit the alarm and roll over can't it? Will just this once make a difference? Yes, because lots of 'just this once' add up to you not achieving your dream.
What will you do today, will you make a choice not a sacrifice?
https://www.juliemeek.com.au/wp-content/uploads/2019/04/David-Adamson-take-2-b.jpg
1280
1920
Julie Meek
https://www.juliemeek.com.au/wp-content/uploads/2020/02/julie-meek-logo.png
Julie Meek
2019-04-02 10:00:00
2019-04-02 15:14:26
Make a Choice Not a Sacrifice