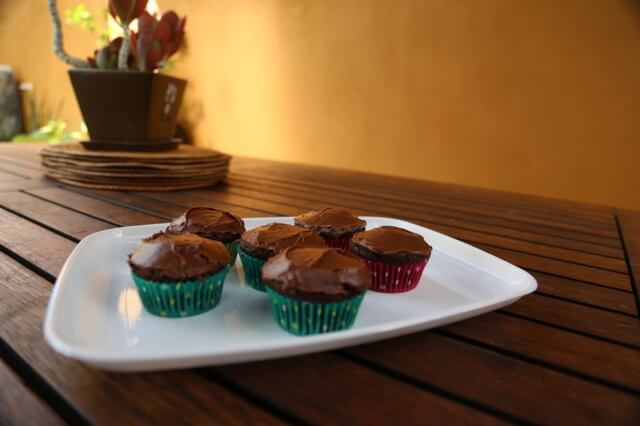 Legumes and I are good friends from way back.  We get together 3-5 times every week and I share the love between baked beans, cannellini beans, chick peas, kidney beans, lentils and others. We are friends because I know that legumes and beans are a great way of adding fibre, protein, Vitamin C and resistant starch to my diet. I love that research shows resistant starch can promote intestinal health and may play an important role glucose and energy management. For those of you who don't enjoy legumes such as baked beans and other dried or tinned varieties, my friend Belinda may have delivered a solution to get you into the market.  Last week she dropped off five little chocolate cupcakes that at first glance just looked plain delicious.  But these weren't just ordinary cupcakes. These little morsels of chocolatey yumminess contained legumes as their base along with antioxidant rich cacao. I was sold at hello and they delivered with amazing texture and taste.  My children and husband still have no clue they are still raving about cupcakes that are full of magic bean goodness. Belinda kindly shared the recipe, originally from CleverCook who develops Thermomix recipes.  I don't have one of these wizzy machines and they work just as well in a blender.  The recipe makes 12, with each iced cupcake containing 180 calories. It's good to know that when having a treat like this, you get a boost of nutrients to go with it.  Go try them, I dare you.
Magic Bean Chocolate Cupcakes
440g can kidney beans, drained 1 tablespoon water 1 teaspoon vanilla extract 70g raw cacao powder 1 teaspoon baking powder 1/2 teaspoon bicarbonate of soda 125g butter or poly/monounsaturated margarine 5 eggs 140g sugar 1. In your blender or Thermomix, puree the beans, water, 1 egg and vanilla until smooth and set aside 2. Beat the butter and sugar together until pale and creamy. 3. Add the remaining eggs and beat well followed by the bean mixture, cacao powder, baking powder and bicarb, beating to mix to a smooth batter 4. Pour mixture evenly into 12 cupcakes papers and bake for 20 minutes until firm to the touch.  
https://www.juliemeek.com.au/wp-content/uploads/2014/10/Bean-cupcakes.jpg
426
640
Julie Meek
https://www.juliemeek.com.au/wp-content/uploads/2020/02/julie-meek-logo.png
Julie Meek
2014-10-30 10:27:16
2018-06-20 18:06:02
Magic Bean