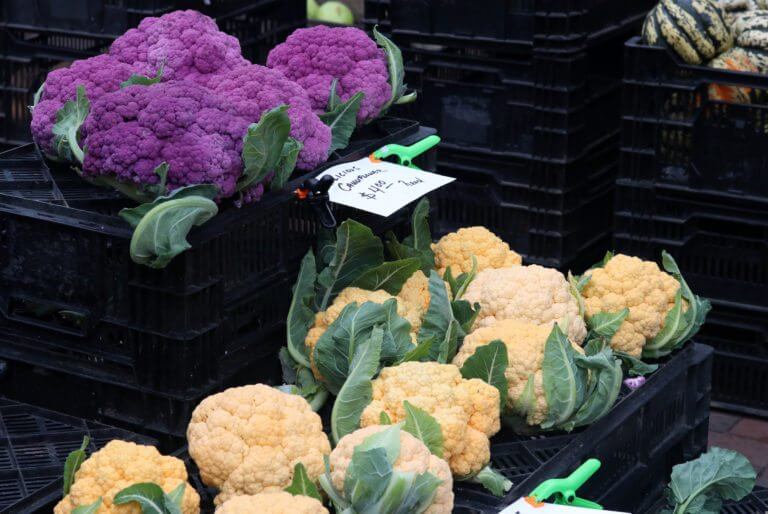 Incredible Health Benefits of Cauliflower
Some of my favourite childhood memories of food involve the humble cauliflower. The smell of this delicious vegetable baking in the oven smothered in a cheesy sauce, takes me straight back to my mum teaching me the basics of cooking. Of course, I know now that cauliflower is so much more than a friend to cheese, plus there are so many incredible health benefits to eating this tasty vegetable.
Cauliflower is a cruciferous vegetable from the Brassica family and close cousins to broccoli, cabbage and Brussels sprouts. In the nutrition world, they pack a punch and can truly enhance your health and well-being.
Bring on the incredible benefits of cauliflower.
Fighting the Free Radicals
Cauliflower is a rich source of a particular group of antioxidants known as 'indoles,' which are linked to the prevention of a number of cancers including bladder, breast and colorectal. These antioxidants exert their protective effects by preventing damage to body cells and tissues. This damage is caused by free radicals which are produced in the presence of cigarette smoke, radiation, inflammation, UV light and extreme exercise. The indoles in cauliflower gobble up the free radicals and reduce damage to your cells and the risk of cancer. Although antioxidants can be found in supplement form, they are much more effective in whole food like cauliflower.
A Date with Detox
The human body is very clever but sometimes it needs a bit of help. Our natural detox system usually ticks along all by itself but we do need to give it adequate nutritional support. If unwanted toxins come sailing in and less than ideal choices are being made in the dietary department, we put ourselves at an increased risk of damage to our cells and lifestyle diseases such as heart disease, diabetes, gastrointestinal disease and cancer.
Cauliflower does come to the rescue here as it is bursting with phytonutrients known as glucosinolates that help activate our detoxification system. They are the sulphur containing compounds that give cauliflower its distinctive aroma and taste and they also act as natural anti-inflammatories.
Come in Vitamin C
Vitamin C is essential for skin and brain health and is a powerful antioxidant to boot. Many people think oranges and berries when looking for Vitamin C but cauliflower has hidden talents in this area. Half a small cauliflower contains almost 60mg of Vitamin C compared to 69mg in a medium orange, 32mg in 1-cup raspberries and 14mg in 1-cup of blueberries. Being the brightest doesn't always mean the best!
Low calorie friend
Having low calorie snacks and meal ingredients on hand makes eating healthy food so much easier. The beauty of cauliflower is that it is extremely versatile and can be the base of a delicious soup or curry, an accompaniment to any meal and even a tasty substitute to rice or pasta in the form of the popular cauliflower rice. Versatility aside, one of the incredible benefits of cauliflower is that there are just 48 calories in 1-cup.
Fill up on Fibre
Research shows that fibre is vital to our gut health. It is also one of the keys to fat blasting as fibre does a great job of filling you up and therefore reducing your intake of high fat and calorie foods.
Fibre helps reduce cholesterol and manage blood sugar levels plus it helps to keep us regular. Fibre keeps the system moving by feeding the healthy bugs in the large bowel and speeding up digestion, which helps protect against cancer.
A healthy gut is strongly linked to mood and mental health, so it is great news that cauliflower contains over 5 grams of fibre in every cup.
So what are you waiting for?
https://www.juliemeek.com.au/wp-content/uploads/2017/05/Cauliflower-768x514.jpg
514
768
Julie Meek
https://www.juliemeek.com.au/wp-content/uploads/2020/02/julie-meek-logo.png
Julie Meek
2017-03-02 06:40:24
2018-03-26 12:04:22
Incredible Health Benefits of Cauliflower