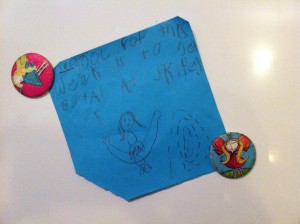 At the beginning of this year my 7 year old daughter posted a note on the fridge. It simply said 'The gool for this week is to get beta at skipey." It was Week One of Term One so I overlooked the spelling but the interpreted version is "The goal for this week is to get better at skipping." We are talking about a kid that could barely get over the rope but desperately wanted to follow in her sisters footsteps.  From the minute that goal was posted on the fridge it seemed that every time I looked at Miss 7, she had a skipping rope in her hands. Now, smack in the middle of Term 2, this girl can do 90 consecutive skips over the rope at a cracking pace.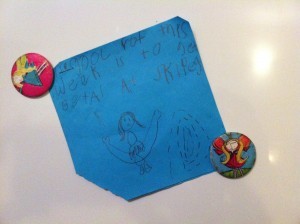 Miss 7 is not an elite athlete (skipping is not an Olympic sport yet) but unknowingly she developed many of the attributes that elite athletes utilise to achieve success.  Endurance, agility, flexibility, core and inner strength, mental resilience, finely tuned skills, intuition, organisational skills, focus and determination, strategy and persistence are some of the key elements required to be a world class athlete.  Sadly they are not for sale.  In my work with elite athletes preparing for the Olympic Games, I have found that elite athletes and everyday people have more in common than you might realise.  Just like athletes, most of us experience physical and mental stress and are subjected to tests of endurance on a daily basis.  I have no doubt that each and every one of you can identify with this.
Being human means that we try and make simple things complicated.  If you have ever embarked upon a health change or establishing a new habit like a new exercise program, eating healthy food, sleeping more or reducing the stress in your life, you would have noticed that all of a sudden there are so many options to consider.  So many in fact, that all this thinking results in paralysis by analysis and the end result is zip.
What are the challenges that directly affect your ability to live a healthy life?
1. High expectations (and sometimes unrealistic) of others
2. Resources available (manpower and time)
3. Family commitments (husband or partner, young children, parents)
4. Fitting in exercise (essential from a physical and mental perspective)
5. Fatigue
6. Frequent travel
7. Social commitments
8. Competing priorities
Imagine making one change to your lifestyle that could give you a 1% edge. The 1% edge that elite athletes are constantly looking for that gets them across the finish line a fraction of a second in front of their opponents.
Imagine having your own personal edge.  An edge that could be gained by changing only one habit.  One habit that you can change or add to your life, which would enhance your health and performance immediately.
I am a master at making simple things complicated. So now, I just need to take a look at the fridge, remind myself to focus and in the words of Beverley Sills, Opera Singer…..
Be like a postage stamp
Stick to one thing at a time
https://www.juliemeek.com.au/wp-content/uploads/2012/05/IMG_0932.jpg
224
300
Julie Meek
https://www.juliemeek.com.au/wp-content/uploads/2020/02/julie-meek-logo.png
Julie Meek
2012-05-29 20:55:10
2018-03-26 12:04:37
Get Better at Skippy