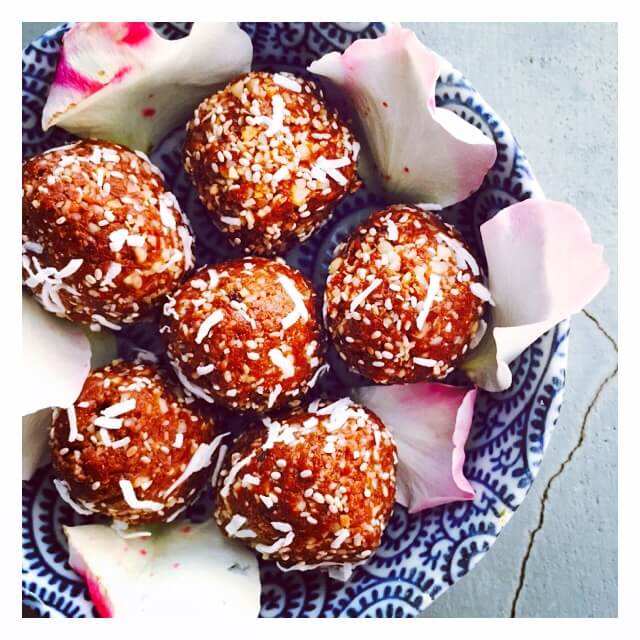 One of my favourite treats at Christmas time is the good old Rum Ball.  Despite their deliciousness, I do know that they are jam packed with calories and it is very hard to stop at just one.  The concept of 'balls' have become very popular over the last few years and it is very common to see them adorning the glass display cabinets of many a cafe.  The thing is, although the ingredients in these so called healthy and natural treats, may look good on paper they still contain a bunch of calories. Let's face it. It's hard to stop at one isn't it? This is my take on the traditional Rum Ball – except that I prefer Marsala. These guys are so quick and easy and make the perfect Festive gift.
Festive Chocolate Balls
Ingredients
9 Medjool dates 3 tablespoons Marsala
2 tablespoons cacao powder
2 tablespoons desiccated coconut
handful raw hazelnuts
1 tablespoon chia seeds
Method
Throw ingredients into a food processor and blitz for a few minutes until nicely combined. Make tablespoons of the mixture into balls and enjoy.
https://www.juliemeek.com.au/wp-content/uploads/2015/12/IMG_6281.jpg
640
640
Julie Meek
https://www.juliemeek.com.au/wp-content/uploads/2020/02/julie-meek-logo.png
Julie Meek
2015-12-10 15:04:13
2018-07-26 12:47:33
Festive Chocolate Balls