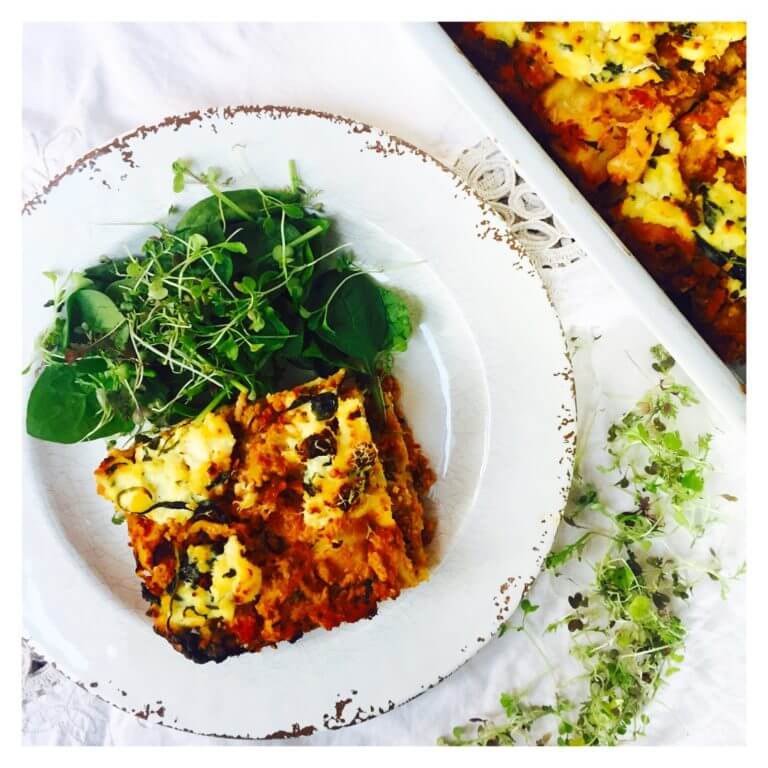 Chicken, Ricotta and Spinach Lupinsagne aka Lasagne
Lasagne gets me thinking about Italy, cheesy sauce, accordion music and red and white checked tablecloths. You might not have exactly the same vision but lasagne is a true crowd pleaser and one of those dishes that just makes you sigh with happiness doesn't it?
Traditionally, lasagne can be loaded with béchamel sauce (delicious yes but high on the fat side of things), sheets of pasta and cheese upon cheese.
That might seem like a good thing (and as an occasional food, it really is) but for an everyday kind of dish, a few tweaks is all it takes to bump up the protein and reduce the fat, to tick the nutrition boxes and turn it into the ideal recovery meal post exercise.
Perfect timing because there is a new protein rich kid on the block, which packs a serious nutrition punch. This little goodie is the humble lupin – a unique legume that contains 40% protein, 40% fibre with a small amount of carbohydrate and fat and is completely gluten free. 85% of the world's crop of lupins is grown in Western Australia which is pretty cool. Yay for the sandgropers.
So after a bit of experimenting, I have concocted Chicken, Ricotta and Spinach Lupinsagne and it tastes fantastic! This recipe is high in protein and fibre and is packed full of vegetables and flavour. It uses lupin flakes produced by The Lupin Co. which are so versatile and have so much to give our bodies, including a protein punch.
Chicken, Ricotta and Spinach Lupinsagne

Ingredients
1-tablespoon olive oil
1 onion, finely diced
2 x cloves fresh garlic, minced
2 medium carrots, grated
1 large zucchini, grated
1 x 400g tin canned, diced tomatoes
20 basil fresh leaves
500g lean chicken mince
1-cup chicken stock
1-cup lupin flakes
1kg reduced fat ricotta cheese
150g baby spinach leaves,
2 eggs, beaten
5 x fresh lasagne sheets
2 tablespoons Parmesan cheese, finely grated

Method
Cook the onion and garlic together in the oil until golden brown and then add the chicken mince and stir until cooked through.

Add the carrot, zucchini, tomatoes, chicken stock and basil, bring to the boil and then simmer for 15-20 minutes until the mixture is reduced a little. While the mixture is simmering, cook the lupins in boiling water and cook for 3 minutes and then drain and rinse in cold water. Just before you take the chicken mixture off the heat – add the cooked lupins and stir well.

Meanwhile, place the spinach leaves in a microwave proof bowl into the microwave and cook for 1 minute until wilted slightly. Once cooled, squeeze out excess water and add to the ricotta along with the beaten eggs. Stir the ricotta mixture until smooth.

Spray a large lasagne dish with cooking oil and place some of the mince mixture on the bottom of the dish followed by lasagne sheets to fit and then half of the mince mixture on top of this followed by half of the ricotta mixture and repeat these steps once more finishing with the ricotta layer.

Cover with foil and cook in a moderate oven for 30 minutes, remove the foil, sprinkle with the Parmesan cheese and cook for a further 15 minutes.

Nutrition Per Serve:

Energy 312 calories, protein 27g, fat 12g, carbohydrate 19g, fibre 8g
This Lupinsagne is perfect for an everyday dinner and also a great recovery meal post exercise.
Watch this space for more lupinlicious recipes.
Buon appetito!
https://www.juliemeek.com.au/wp-content/uploads/2017/05/Chicken-Ricotta-and-Spinach-Lupinsagne-768x768.jpg
768
768
Julie Meek
https://www.juliemeek.com.au/wp-content/uploads/2020/02/julie-meek-logo.png
Julie Meek
2017-02-10 06:28:03
2018-03-26 12:04:23
Chicken, Ricotta and Spinach Lupinsagne aka Lasagne