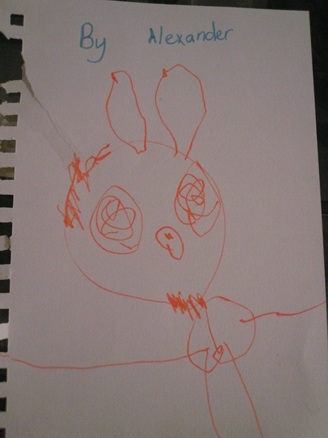 Buona Pasqua or Happy Easter!  Easter Sunday in Rapallo, Italy and it is raining and cold but picturesque. Last night drawings and letters were pored over in preparation for Mr Bunny's arrival and left in anticipation of an exchange. Fortunately the Easter Bunny or Coniglietto trekked up the mountain we are on and left some chocolate eggs for Miss 7 and 6 years and Master 4. Chocolatiers or cioccolateria abound and the Italians go all out with their chocolate displays, most are beautifully wrapped, very large and Lindt.  No cheap compound chocolate here.    
The Italian food is a very pleasant assault on the senses.  A week just spent in Lucca, the beautiful walled city meant that we found a local pastericceria for breakfast everyday.  The cosy Pasticceria Pasquinelli was run express style by Roberto, barista extraordinaire.  Grumpy yes, but he punched out coffee like no other. while casting out bongiorno's and ciao's with every tinkle of the door bell.  Just like conversation, coffee really is an expresso activity in Italy, people come in and order their coffee, throw it back and leave.  I put my timer on and the average time spent standing at the bar (only tourists seem to sit and it is cheaper to stand at the bar) is about 5 minutes.  Quite the contrast to how much time we spend sitting drinking coffee in Australia.  A latte or cappuccini costs the equivalent of  AU$1.85.  Where does the other $2.00-3.00 go that we spend on a coffee in Australia? 
 Another Easter treat here is the Buccellato, just like a fruit bun with fennel and the Colomba which is the Easter version of the Pannetone in the shape of a cross.  The pizza and pasta as expected is overflowing with fresh ingredients and delicious.  
 Of course, road testing these foods is not just about pleasure, its part of my job…..  but we all know that the age old equation of what goes in must equal what goes out is still in play during holidays (sadly), so much exercise must be exchanged for the road testing.  Luckily the wall around Lucca was a 4km loop which we walked and biked around every day with the multitude of dogs that every Italian seems to have.  We now find ourselves part way up a mountain in Rapallo, down the coast from Genoa and there is only one way up and down without a car.  Great for the gluteal muscles and as my friend and colleague David Beard always advises, you gotta get puffed.  
Ciao for now.   
https://www.juliemeek.com.au/wp-content/uploads/2011/04/Buzzy2.jpg
438
328
Julie Meek
https://www.juliemeek.com.au/wp-content/uploads/2020/02/julie-meek-logo.png
Julie Meek
2011-04-24 19:52:54
2018-03-26 12:04:41
Buona Pasqua