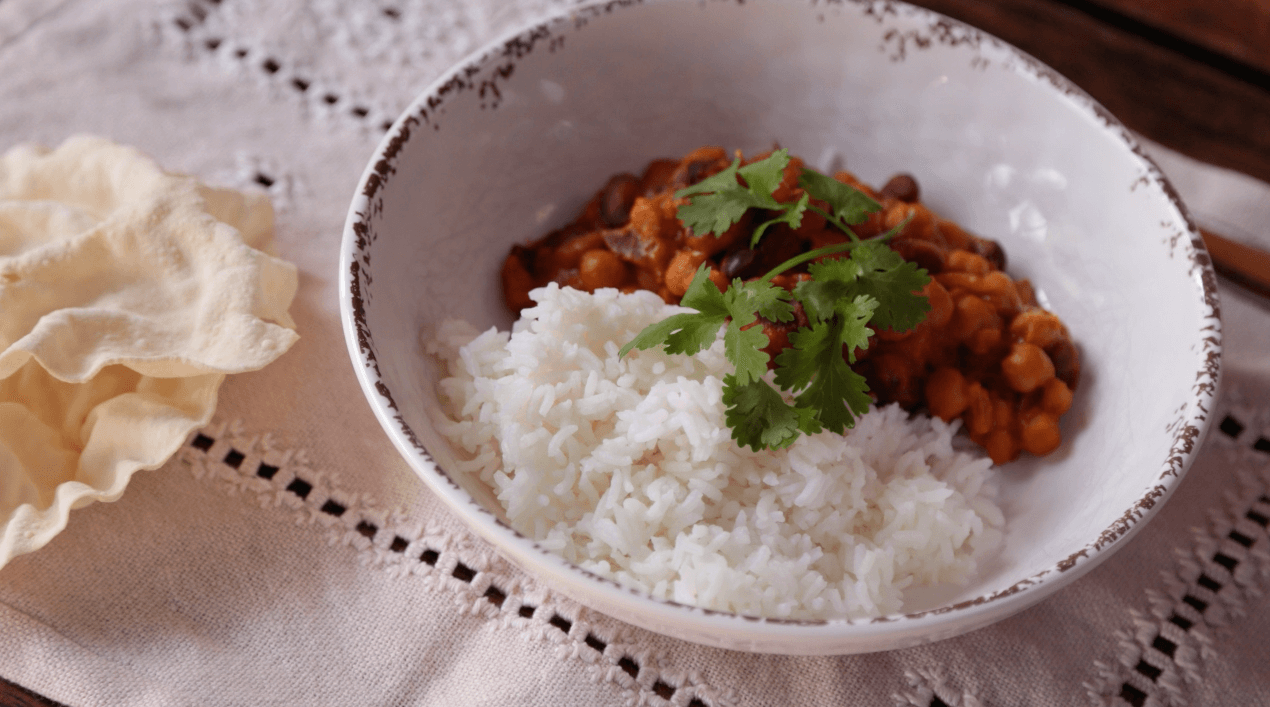 While I was at university studying, money was tight. One had to be inventive with the food budget and legumes were at the top of my list as they are so cheap and versatile! Enter Bean Curry in a Hurry.
The very original recipe was kindly shared by my friend Cath but it has morphed over the years to become something that changes with the contents of my pantry – variety is the spice of life after all isn't it?
This dish might be called a bean curry but there is no heat in this one – just lots of lovely flavours and full of good fuel for your gut bacteria. If you prefer a bit of spiciness – simply add some curry powder or fresh chilli.
On a side note, I have been serving this bean curry deliciousness with a mixture of basmati rice (2/3) and lupin flakes (1/3) from The Lupin Co. steamed in the rice cooker – looks and tastes fabulous and gives an extra boost of protein.
Legumes such as kidney beans, chick peas, cannellini beans, black beans and the like are little nutrition powerhouses – full of protein, carbohydrate, resistant starch, fibre and of course, flavour.
Bean Curry
1 tbsp olive oil
1 chopped onion
1 tsp ground ginger
1 tsp cumin
2 tsp turmeric
2 tbsp tomato paste
2 tbsp peanut butter
2 tbsp mango chutney or other
400g chickpeas
400g red kidney beans
400g diced tomatoes
1 cup water
Method
 Sauté onion in oil until golden brown.
Add the ginger, cumin, turmeric, tomato paste, peanut butter and mango chutney and cook for 3 minutes on a low heat.
Add chickpeas, kidney beans, tomatoes and water and simmer for 10 minutes.
Serve with steamed rice and a green vegetable. 
To see this recipe in action click here for the video.
https://www.juliemeek.com.au/wp-content/uploads/2018/06/Bean-Curry.png
707
1270
Julie Meek
https://www.juliemeek.com.au/wp-content/uploads/2020/02/julie-meek-logo.png
Julie Meek
2018-06-12 14:18:35
2018-06-12 14:18:35
Bean Curry in a Hurry