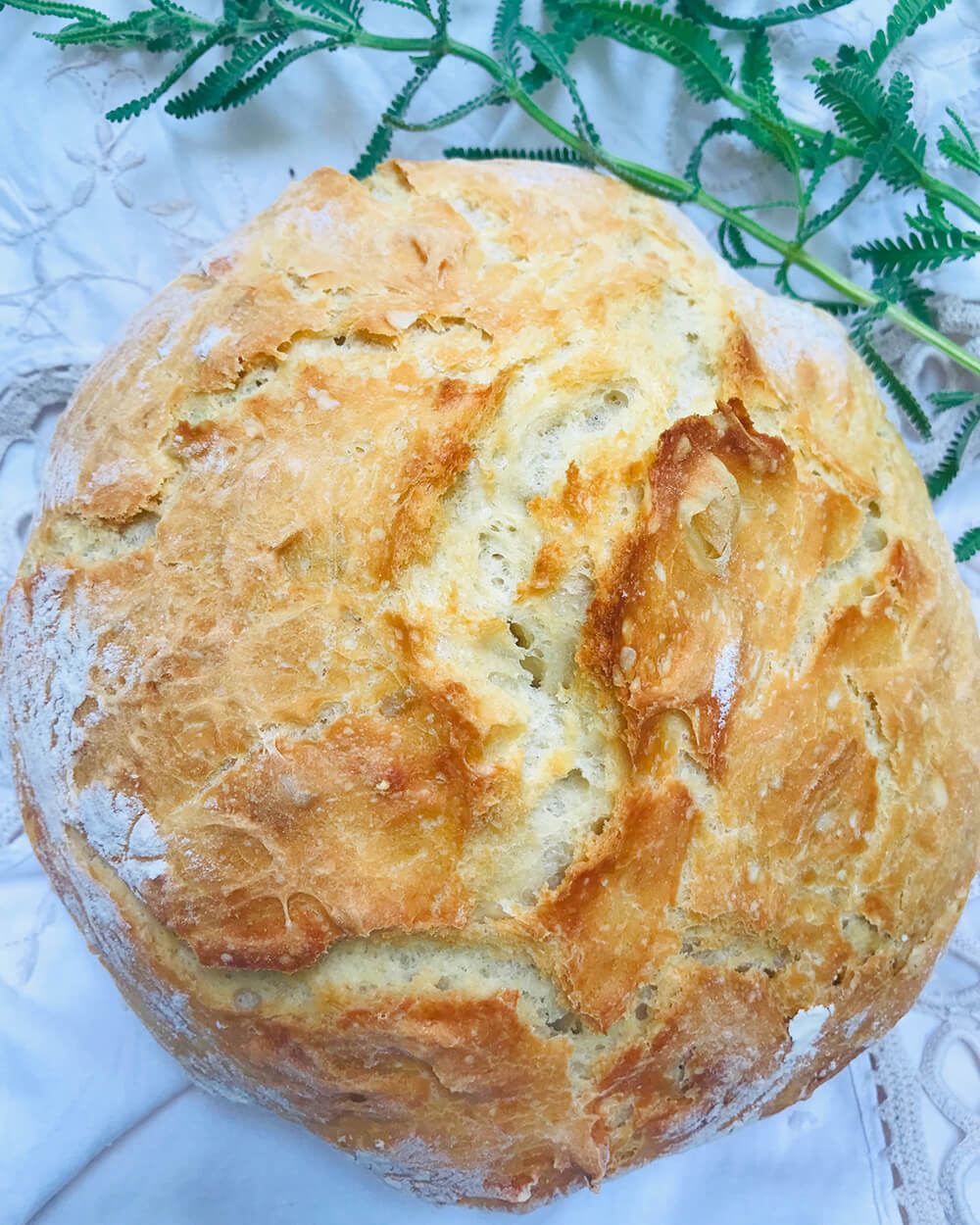 All About Bread – An Easy Delicious Loaf For You To Make
Bread making is in my family genes.  My grandfather was a baker in the tiny West Australian country town of  Yarloop and I can imagine that he would have been one of the most popular people going around because of it.  
My grandparents had a small general store as well and as a kid my Dad used to hop on his bike and deliver the groceries in the township.  I can almost smell the delicious aroma of fresh bread wafting behind him as he pedalled furiously through the streets of Yarloop.
In a spot of poor timing, by the time I was interested in food and baking, Alzheimer's had whisked away my grandfathers memories.
I would so love to talk to him about his tips and tricks for the best loaf, especially as he had a great interest in healthy food. His idea of a treat for the grandkids was a shredded wheatmeal biscuit or a slice of Roberts Dark Rye with a scrape of honey.  I appreciate the sentiment now but at the time it was not gratefully received!
I've been baking bread for around 15 years in my trusty Breville Bread Maker. I do have to keep an eye on it because now and then it does ditch itself off the edge of the bench when dough mixing gets a bit vigorous. However, it still delivers a fantastic loaf of bread.
Despite this, I have always looked at Artisan hand shaped loaves with a kind of longing. My bread is usually tall and square reflecting the shape of the tin inside the machine.   Cutting the appropriate sized slice of bread (i.e. not a doorstop) can indeed be challenging. 
A few weeks ago, my friend Corrine over at Sweet Perfection passed on a recipe for 'easy' bread that required no kneading or intense upper body exercises.   Corrine makes the best celebration cakes you will ever see and is very much a fine details kind of gal, so I was a little worried about the effort I would have to go to. My worries were unfounded.
For the past two weeks, I have baked that bread almost every day to try and perfect my little hand made loaf and yesterday I think I got there. The crust was satisfyingly crisp with a perfect crumb on the inside. 
Easy Bread
Ingredients
3 cups bread flour or plain flour 
1.5 tsp dry yeast 
1.5 cups warm water
Pinch of salt
Method
Mix the flour and salt together in a large bowl.  
Dissolve the yeast in the warm water (the temperature where you can stick your finger in and it feels like a nice warm bath)
Mix the yeast and water into the flour with a wooden spoon until the dough come together into a ball.  This will literally take just moments and the dough should be a bit or a lot sticky – I find this depends on the day and the flour.
Cover the bowl with Glad-Wrap and put into a warm spot (but not in the sun) in the house for 2-3 hours.
Prior to baking the bread, pre-heat a large French Oven casserole pot and lid (Chasseur, Le Creuset or similar) at 220 degrees for 30 minutes.
When the dough is ready, cut a piece of baking paper that is big enough to fit the bottom and sides of the pot, place on a flat surface and lightly dust with flour.
Scrape the dough from around the sides of the bowl and gently ease the dough upside down out of the bowl and onto the baking paper.
Using a plastic spatula, move the outside edges of the dough into the middle. This should require no more than four movements.
Carefully take the pot out of the oven, remove the lid and place the dough on the baking paper into the pot. Replace the lid.
Bake on 200 degrees for 40 – 45 minutes and VERY carefully remove from oven.
You now have an amazing loaf of bread!
Don't be scared that there are ten instructions in the above method as it literally is a five minute job but I wanted to be very clear about each part.
I have been using Premium White bread flour and Purple Wheat flour from All About Bread in Greenwood but you could try any flour that you have or can get!
You can serve this delicious bread with your favourite spread or just by its good self.  If you haven't tried my Blueberry Chia Jam, to go with it, you should.
So, now I wait for the photo's of your bread to come rushing at me!
https://www.juliemeek.com.au/wp-content/uploads/2020/06/Homemade-bread-scaled-1.jpg
1250
1000
Milan Lipowski
https://www.juliemeek.com.au/wp-content/uploads/2020/02/julie-meek-logo.png
Milan Lipowski
2020-04-21 04:00:12
2020-06-19 03:36:29
All About Bread – An Easy Delicious Loaf For You To Make